This blog post is going to teach you how to make your own clothing brand! You'll find out about the different steps you need to take, as well as learn what some of the challenges are and how they can be overcome. Whether you want a casual or dressy line, this article will show you everything from A-Z!
The 3 main clothing line business models. Define yours!
First of all you have to define your business model. There are three different types of business models for your clothing line. For all of them you will find that you need to brand your products, this means developing a logo according to your style and labeling your products with custom brand labels. We will dive into this later on this article.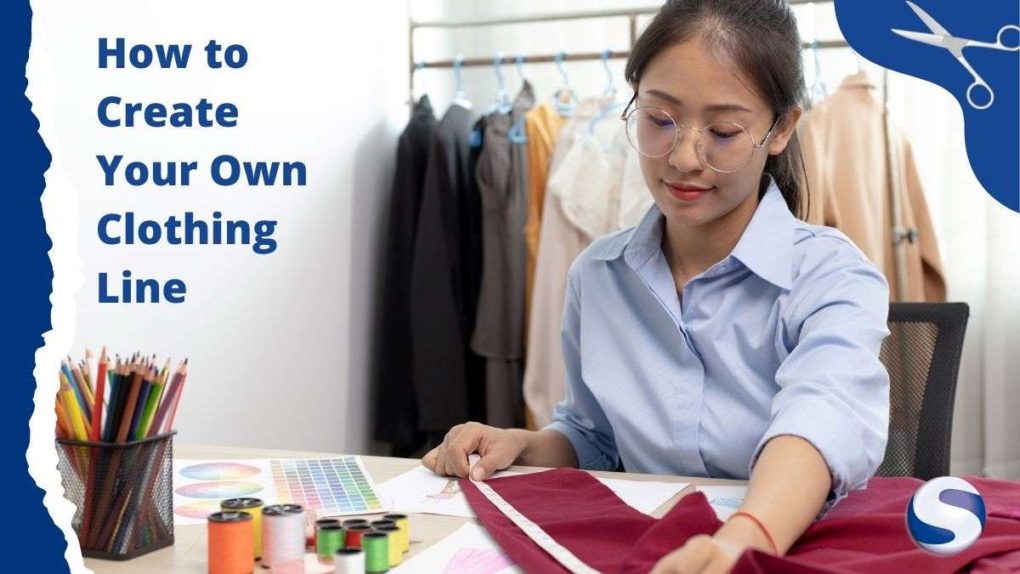 1. The Digital Designer / Printer clothing line business model
To print your designs on demand could be the cheapest way to kick off your clothing line. And we say "could be" because, as always, it depends on several factors. We can breakdown the Printer model in 2 types.
1.1 The designer who hire another company to print.
You create your designs and upload them to a printing company who will print them on blank apparel only if someone place an order.
This means that you don't have to invest in fabric, cut the patterns or sew together the clothes yourself.
On the one hand you will save money and time, because you only need a computer to make your designs (or hire someone who do this on your behalf) and nothing else.
However, on the other hand, this also means less profits for you.
A clever way to start without jeopardizing your savings is by offering your designs in thirdparty websites as Etsy, Olx, Amazon, Zazzle, Vistaprint, Facebook Marketplace and a longer list.
We higly recommend to do this before you start running your own website.
1.2 The designer that actually print and deliver its items.
Another way to start selling your clothing line is to not only design but also print by your own. Nowadays there are several options to do this from your home without the need of a big investment. Additionally to having a computer and a designer program as illustrator, Photoshop, Gimp or Inkscape you will need:
3. Heat Transfer paper (Vinyl) or Sublimation Ink Paper
4. Heat press.
5. Paper Cutter.
Or just a super combo like this one or an All in on solution like this
2. The Reseller / relabeling clothing line business model
Another way to start your clothing line business is by buying garment from a manufacturer in bulk and then offering them in your apparel store (online or not). There are a number of options to do this. One of them, that involve ethical concerns is by doing relabeling which means taking a product from one brand and putting your own label on it. This is not legal in all countries so we higly recommend to do research before starting this kind of business.
The more ethical way, which also happens to create the most profits for you would be by becoming a reseller or drop shipper where you buy garments from different brands (manufacturers or wholesalers) and then you create your own label in order to sell them.
As a digital reseller you can choose to have products in stock or to just request them on demand. Consider that if your supplier is located offshore (or, lets say in China) deliveries can take a long time.
To be a succesful reseller you should know in advanced your customers preferences, this involve selecting carefully the pieces you are buying.
3. The Manufacturer business model (you need big muscles)
As a manufacturer you can be as small as a tailor or as big as a wholesale apparel supplier. Let's explore both options
3.1 Small manufacturer
The small fashion designer can sell their creations in other stores. Consignment is a great option for this.
Consignment is an agreement between the owner of the brand and another company that sells their creations for a percentage of what's sold. This means that you can create your pieces, but someone else has to make sure it gets out there in front of people who might want to purchase
As a tiny business, you'll create your designs, make patterns for them, and manufacture your goods.
It takes a lot of patience and persistence to make your own clothes. It may be a time-consuming procedure that might take months (at the least) to establish.
You'll need to find a fabric manufacturer, work with a pattern maker, develop tach packs, source and test cloth, and so on. Before you get anywhere near a finished.
Some small manufacturers start specializing in very unique pieces of garment, tailoring personalized clothes as suits and dresses that fits perfectly their customers needs. This is a good starting point to get to know what are the customers looking for that they can't find in the market. By doing this you can find the differentiator factor that might make your future clothing line stand out from the others.
3.2 Big Manufacturer
The wholesale apparel supplier, on the other hand is a company that create and sell directly to retailers who will place orders in bulk and create their own label with them. Some of the most popular suppliers are:
Li & Fung Ltd – Hong Kong based business that supplies goods from China among many others countries around the world.
TAL Group – Italian company with warehouses in Europe and China where they create their own label (in this case, TAL)
There are many more clothing suppliers around the globe so you should do some research before starting your business to make sure there is a market for what you want to sell.
A very important thing to consider here is that as a manufacturer you should have your own label. That means create and develop your own brand, create patterns according to the measurements of each style (this can be hard for some special pieces) buy fabric or request it in bulk from wholesalers around the world (we higly recommend Alibaba if you are looking into buying in bulk).
You will also need to create your own website, create an online store and market it. This is a very time consuming process so be sure you are committed before starting this business model.
Another important thing that we want to discuss here is about the quality of products because if customers receive subpar quality garments they might not come back. You should create your garments with the best quality you can create, use top notch materials and offer outstanding customer service for this reason it is important to have an efficient supply chain.
4 Key elements you have to consider to build your clothing brand
Prior to launching any brand idea it is a good advice to make a little research about the following 4 key aspects that helps you define your image, personality and target audience in order to succeed in this field. We are refering to: niche, design, quality and brand.
Niche
Even if you create a broad fashion line, which means that it is aimed at everybody from young to old people from different backgrounds and with varying preferences your brand should have a certain niche. That does not mean be elitist or exclusive but focus on one type of customer so as to create the best experience for them.
Design: make your own brand
This is very important, create a unique design that expresses the personality of your brand. If you are creating for young people don't create something too sophisticated or formal because they probably won't buy it. Be careful not to make them so casual either that it will not be liked by your target market.
Quality
As we mentioned before create your garments with the best materials you can afford. Customers will not come back if they receive poor quality clothing, it will affect your brand image and sales. You should create a superior product that expresses your style without overpricing it.
Brand
You can have an amazing brand, but if no one has heard about it, you won't make any sales!
Create a marketing plan, social media accounts on Instagram or Facebook and show images from photoshoots or events as well as post outfit ideas with your pieces.
Also create a website and create high quality images for it (you can hire people on fiverr to create these). Real life action images are best, and make sure to only show high quality images. Smartphones have great cameras, so if you cannot afford a professional photographer, just watch some youtube tutorials and practice.
Reach out to influencers, brands and celebrities, offer to do cross promotions that will benefit both brands.
Creating your own clothing brand is not an easy task but it can be very profitable if done right. Create a brand that people will love and remember, and make yourself known in this competitive world of fashion.
Labeling your clothing designs
So far you have:
Your logo,
You defined your target persona, and
Developed a marketing strategy.
But we haven't talk yet about your brand labels. There are several types of clothing labels and there is a perfect one for your brand. Briefly:
They are the most common labels, usually made of cotton or polyester woven together in order to create a pattern. They can be customized according to your preferences.
They give the impression of luxury and quality. You can create them in any color or pattern you want to match your brand colors (and don't forget about matching labels with hangers too).
PVC labels are ideal for outdoors clothing line, swimwear and lingerie. They create a waterproof surface which is great if your clothing brand includes sportswear, swimsuits or underwear items.
Leather patches create luxury and sophistication. They also create the impression of durability so they are perfect for items such as handbags and beanies.
Hang Tags are quite important to call the attention of your clients when you display your clothing items at a retail stores . They create a visual presence and they need to be small enough so that they don't block the view of clothing items.
Marketing strategies for launching your clothing line
And last but not least, you have to create a brand strategy and also create an advertising plan which could include social media marketing, influencers marketing or traditional ads.
Create your own clothing brand can be very profitable but you need to create great designs so it is time for inspiration. Check out other fashion brands that have similar target customers as yours to see what they are doing right and how you can create a similar look.
Include decision tree for creating your own clothing brand:
– Do you have the resources to create a fashion line? Yes/No
– What is your target persona? Young adults, children, etc.
– What is your niche?
If yes to all of these questions, you are ready to create a clothing line!