If you are looking for just one surf patch (or a couple of them) to display on your backpack, for instance, you better look for online surf patches retailers like Etsy, Amazon or Ebay.
Otherwise, if what you want is to promote your surfing business or event, indentifying your staff uniforms or tagging your giveaways with surfers patches, this is a good place where to start.
So, hold tight because here it comes your wave!
4 types of Surf Patches to promote business and events
Surfing related patches can be made out of different materials and techniques, each one offers its own advantages over the others.
First of all we present the classic ones, manufactured with fabric like printed patches, woven patches or the classic vintage embroidered ones.
However, before you decide which one fits better your target audience or your design, you should take a look at our last list. This list is the larger one, and it contains awesome samples of Soft Rubber PVC patches we have manufactured and supplied for customers all around the country. These flexible type of patches are the latest trend for surf patches and the most wanted ones by far.
Printed Surf Patch
One way for identifying surf promotional products is with printed patches. These patches are ideal for photo realistic artworks, or art designs with plenty of details like the one you see below. This type of patch for surfers can be attached to hats or jackets to promote events such as the Sun and Surf Run that every year attracts hundreds of participants, specially bikers.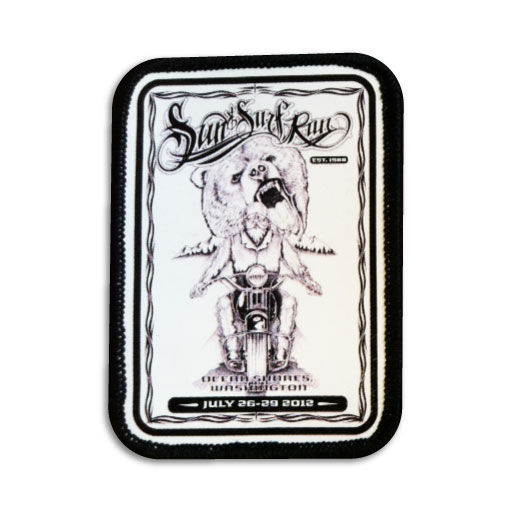 Surf Woven Patches
Custom Woven Patches are often ordered by surfing related businesses like surf gear suppliers or surfboards makers. Woven Patches can also be easily attached to your clothing promo items not only by sewing them on, but also thanks to the help of the iron on backing.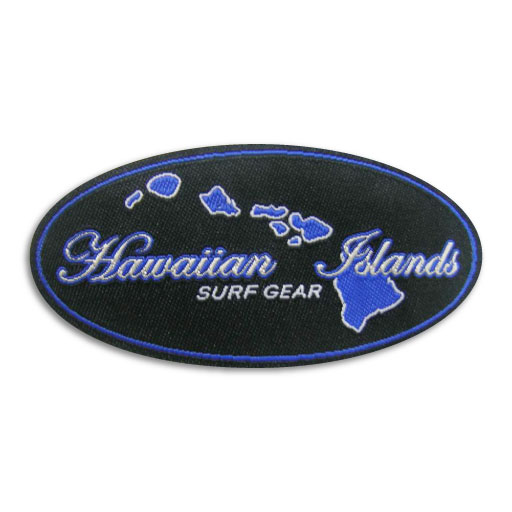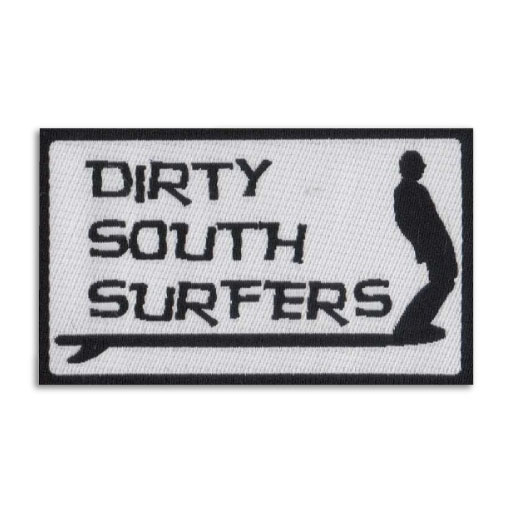 Surf Embroidered Patches
Embroidered patches are the most classic ones, they give a vintage look and, as the woven ones, they allow iron on backing. Other types of backings available for this type of surf patches are: peel and stick self adhesive backing and velcro. The merrow border is almost mandatory, it helps strengthen the shape and serves also as a frame for the design.. For some reason, surf and motorcycles are closely bonded. For more about the subject take a look at our samples on biker patches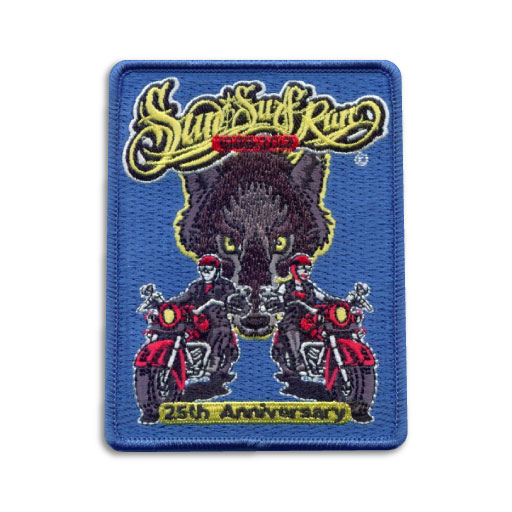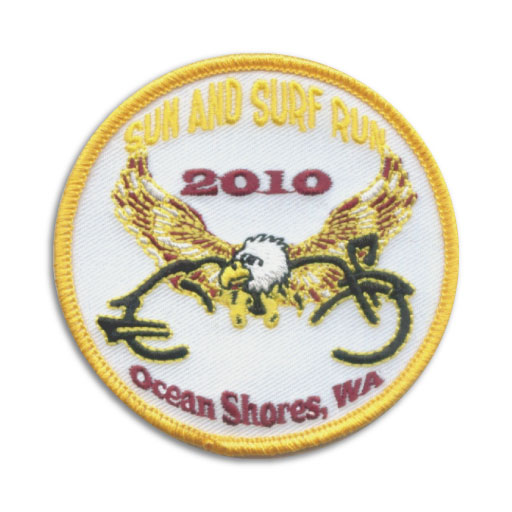 Surf PVC Patches
And last but not least we have our best seller patches, the PVC ones. This material (Polyvinyl Chloride), often compared with soft rubber, is bendable, soft, strong and durable. Plus, as it is made with layers, it allow embossed and debossed areas, ideal to make some parts of your patch design stand out from the rest. Our fully customizable PVC patches are the prefered alternative for surfing related companies or start ups willing to promote their brand in an effective way.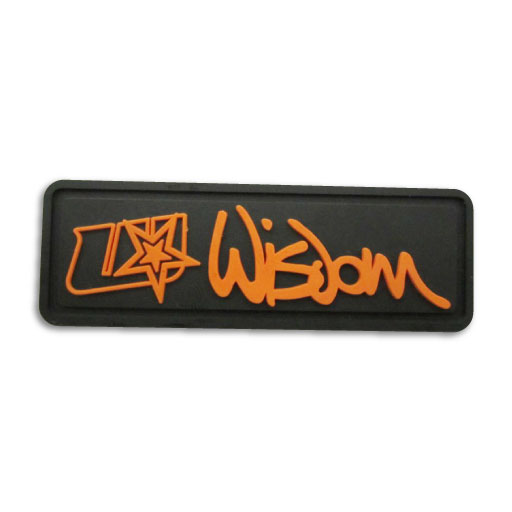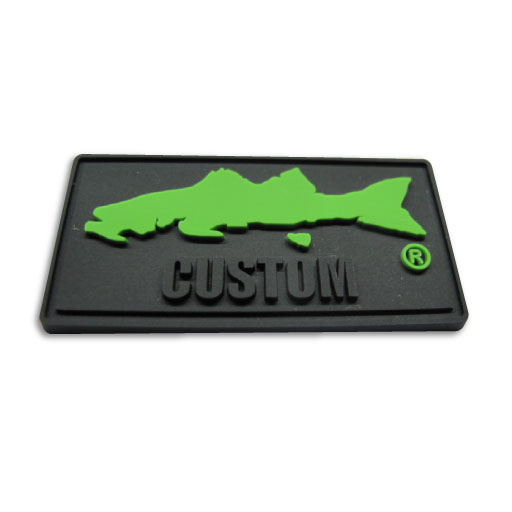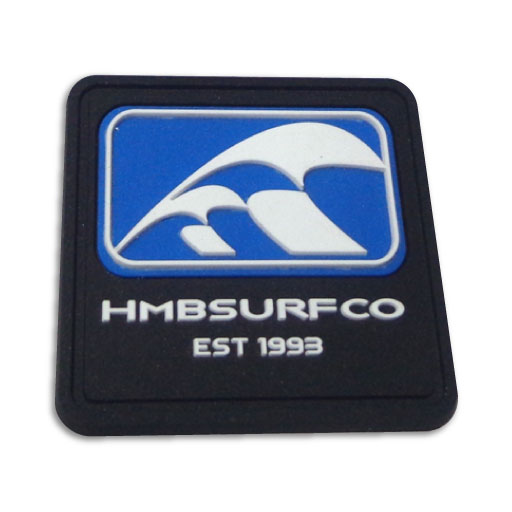 Related Products
Additionally you can choose other types of promotional products to widen your surf brands reach.
Surf Keychains
Keychains can be made out of faux leather, metal or PVC. According to our experience with customers in California, it seams that Surfers prefer the young colorful Custom Rubber Keychains. The advantage of keytags against other type of promotional items is that, if your customers like them they will use them, carrying them every where. They will get used to your brand, showing your logo to many people. A good idea is to put your business contact information (website address, email or phone) at the rear.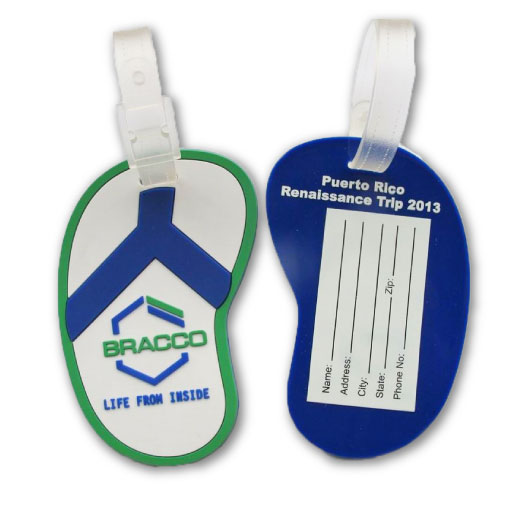 Pvc Luggage Tag, 2D Design, 3 PVC Colors, 1 Color Screen Printed
Thickness: 6mm, Paper Card Insert Backside, Plastic Strap