What is the best embroidery sewing machine available in the market nowadays? As always, it depends.
There is a different best embroidery machine for each different kind of need. According with your level of expertise, your budget, your purpose and/or type of project, you will find a special model that better fits you.
Best Embroidery Machines for Sale
Maybe you are a begginer, or perhaps you are a proffesional but looking for a cost-effective, cheap solution.
From the computerized ones to the simplest models, going thru the best brands in the field (Brother, Janome, Singer) here you have an A-Z guide, short and sharp of the 12 Best Embroidery Sewing Machines of 2022!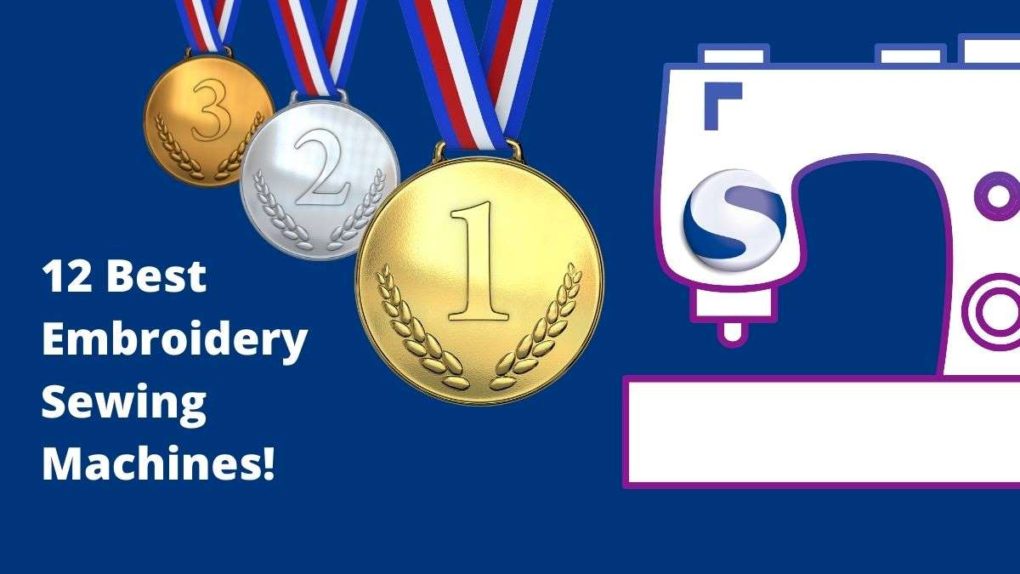 Professional / Computerized Embroidery Machine (Best Brands)
If you are looking for the best embroidery machines for custom designs or for alphabet embroidery there are a number of options:
Brother
First of all we would like to introduce you to this top positioned brand. Brother International Corporation is a Japanese company that has been selling sewing machines, embroidery machines and other textile-related products since 1955. They also produce a wide variety of printers, electronic cutting machines, scanners and fax among other devices. You don't have to care about overseas customer service, because they have stablished a large network with physical presence in over 30 countries, and currently their headquarters are located in Bridgewater, NJ (New Jersey – USA).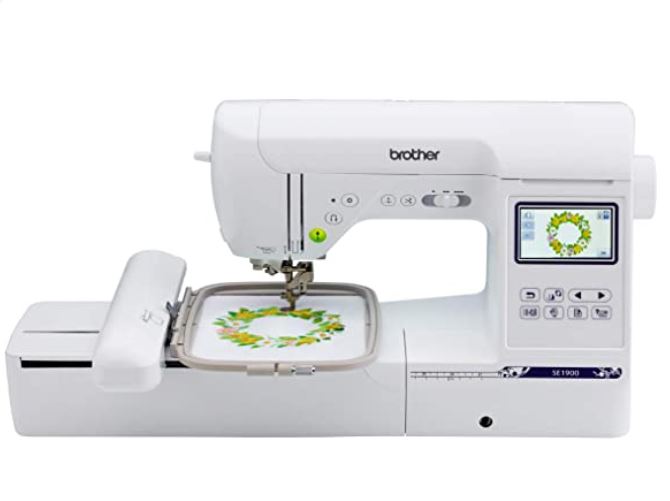 You can create projects from the ground up with this user-friendly and technically developed machine. It has 240 pre-programmed sewing stitches and 138 pre-designed embroideries. Users may view their designs and editing possibilities in full color on a big LCD color touchscreen display before beginning work on their project.
A great feature included is the so called My Custom Stitch which allows you to design your own custom sewing stitches and save them on your machine for future use. You can change its designs, colors, or upload pre-designed patterns.
Pros
– This is a very creative business idea that will allow you to exercise your imagination and create designs that truly stand out.
– You can do this from the comfort of your home without having to get dressed up or commute through heavy traffic.
Cons
– Since it's best if embroidery work is done by hand it can take a lot of time to create one item, especially if you are creating something intricate.
– You will need to invest in your own embroidery machine which is not very cheap and requires maintenance as well.
Janome – Best Embroidery Sewing Machines
Janome Corporation is another Japanese multinational company specialized in sewing machines, sergers and embroidery machines. The company was founded back in 1921 and they pride themselves on having been the first in developing several technological innovations such as: the first computerized sewing machine for home use (1979) and the first long-arm quilting machine for home use (2003)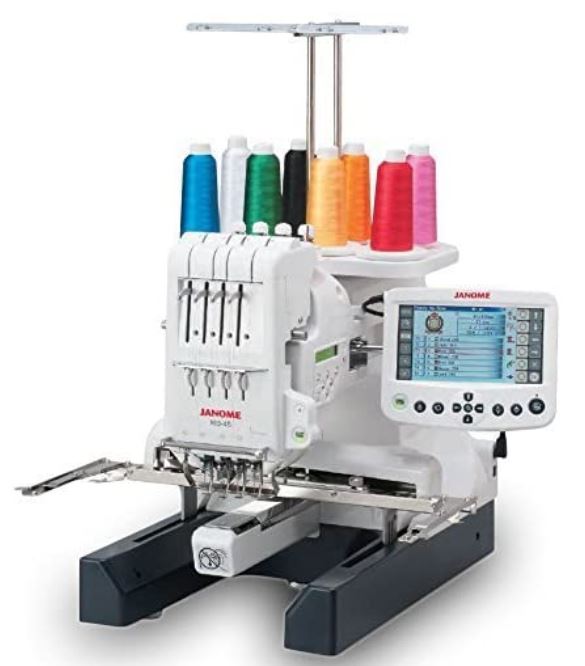 Take all the advantages of the embroidery sewing machines described above (except the Disney Characters Designs preloded in the software) and add 4 needles that will obviously quadruple your production speed. This is what the Janome MB-4S Commercial 4 Needle Embroidery Machine has to offer. Computerized automation managed from a confortable touchscreen and automatic thread trimming system are included.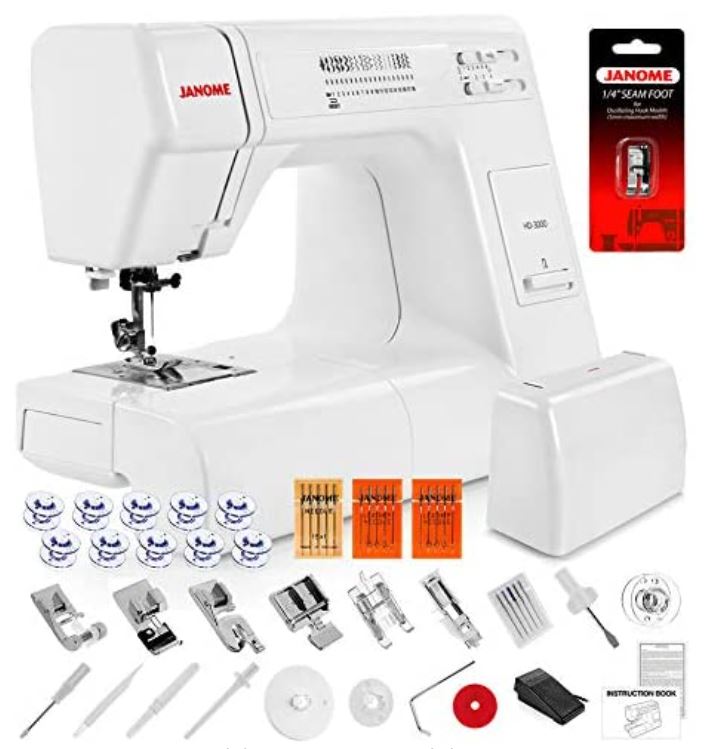 One of their best embroidery machines is the Janome HD3000 . As per its name it has a huge number of features that makes this product stand out among other products on the market. Some of them are: Automatic Needle Threader, 18 built-in stitches, and a large amount of usefull accessories
Singer
Singer is a highly reputable and authoritative company producing sewing machines since 1851. With their almost 2 centuries of expertise, there is no other brand in the field that can compete with their sturdy high quality products. Their wide variety of machines for the clothing industry can be grouped in 5 categories (Serger, Quilting, Mechanical, Heavy Duty and Computerized), we bring you the best rated options: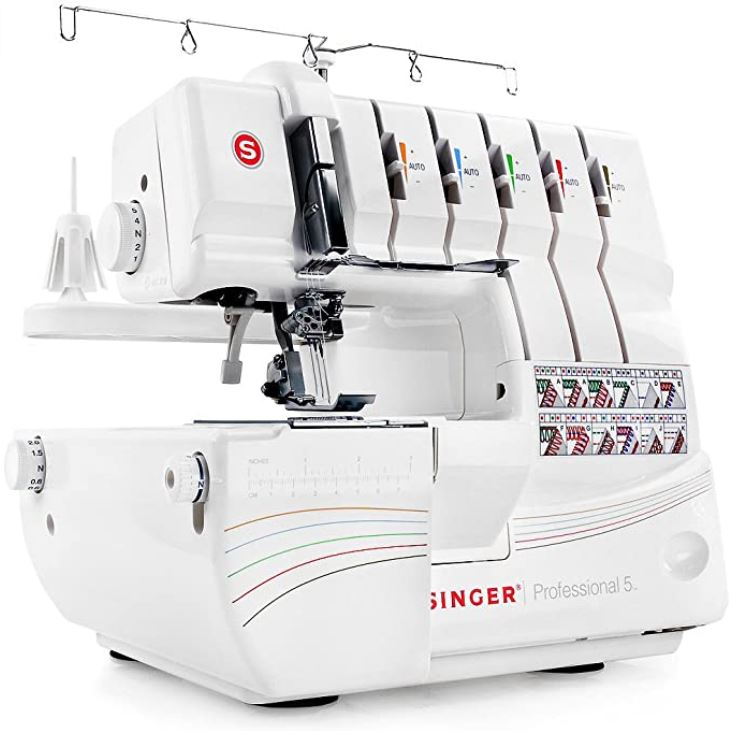 The SINGER 14T968DC Professional Serger machine counts with up to 5 thread capability, self-adjusting tension system and a maximum sewing speed of 1,300 stitches-per-minute.
Flatlock and easy-rolled hems add a beautiful touch to clothes, DIY projects, and more. Moreover, its color-coded threading allow for creative expression and quick set-up!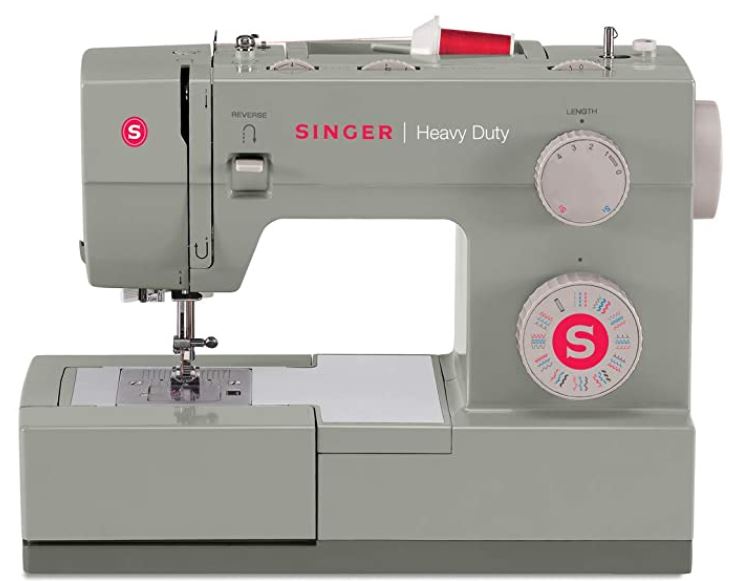 6. Heavy Duty
The Singer Heavy-Duty comes with 50% more power and enhanced speed to tackle thicker fabrics and lengthy seams without breaking the bank. With a completely metal frame, it's a true workhorse. The SINGER Heavy Duty 4452 sewing machine has a number of features that make garment and gift making pleasurable and exciting.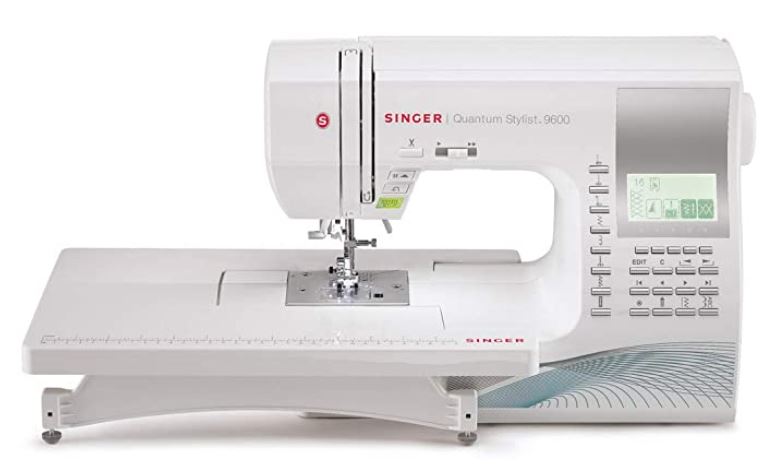 7. Computerized
Singer computerized sewing machines come standard with automated stitch settings, speed control, and other simple features. You can't beat Singer's quality and price when you bundle the machine with all of the necessary accessories!
The SINGER Quantum Stylist 9960 portable sewing machine has a lot of convenient features to help you achieve your creative goals.
This model is great for fashion sewing, quilting, home design and crafting thanks to its extensive range of stitches, which includes standard, stretch and decorative thread techniques.
There's even a typeface palette to customize tasks.
Bernette
The Bernette brand belongs to the BERNINA Textile Group which is nowadays a globally active group of 15 companies. Bernina was founded in Switzerland, by Fritz Gegauf in 1932. The entrepreneur inherit some patents registered by his father who first invented the Hemstitch. Currently the group is doing business in 80 countries.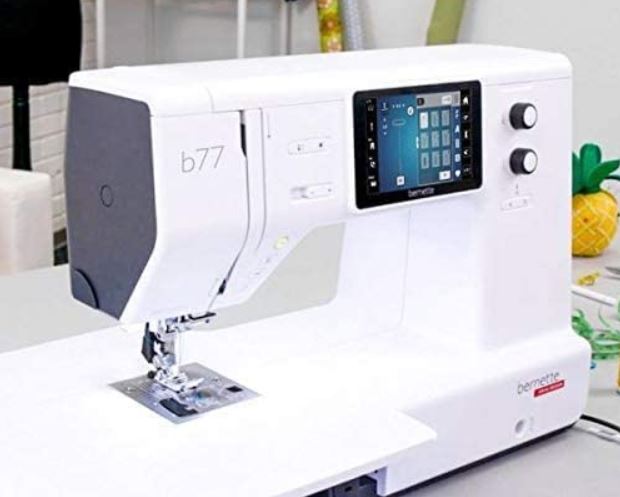 8. Electronic model – b77
The b77 is a small, simple machine that's great for beginners. Make your own clothes, quilts, or other accessories using fabric, yarn, threads, and other supplies. Use this computerized sewing machine to learn new stitching and seam methods.
Make a delicate chiffon dress or a nice leather purse.
With the Bernette b77, you can quilt many layers with high-quality stitching and also have a lot of creative choices. Do you require assistance? They provide sewing consultancy with valuable advise as a service.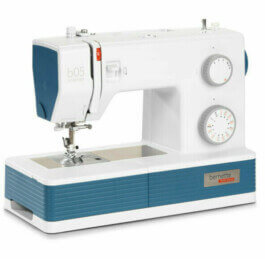 This robust sewing machine offers 30 essential stitches including Lycra Stitch ideal for stretchy materials and Blanket Stitch.
It is affordable, and is a lot of fun to use. You can sew with it, but you will need to go online for the manual. The quick start guide that came with the machine is not enough to teach everything about how it works. It is ideal for both beginners and advanced sewers though.
Best Cheap Embroidery Machines
The best embroidery machine under $300 is a very good option for those who have never sewn professionally and want to try it out.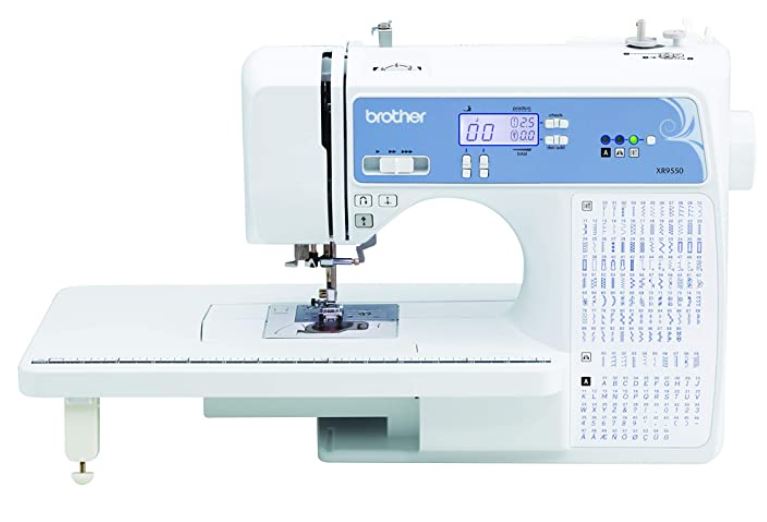 10. Brother XR9550 Sewing and Quilting Machine
If you are not a beginner but you are in a low budget, you might still access to one of the best rated embroidery machines in the market. We are talking about the Brother XR9550 Sewing and Quilting Machine. Amazingly, despite its low price, the model is computerized, and has an LCD Display and a Wide Table among other features commonly found in the professional, more expensive ones. By the time we are making this article the product is one of the best rated with over 3500 global ratings 85% of which are 5 stars customer reviews.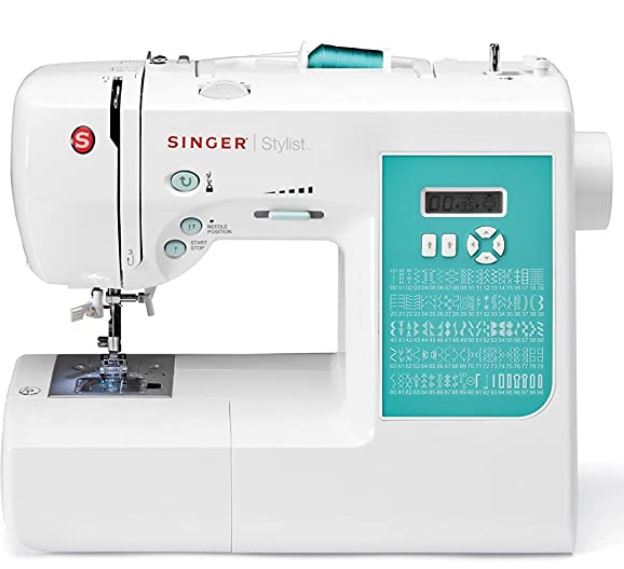 If you want to sew clothes, this is a good sewing machine. It comes with lots of free accessories. This sewing machine has 100 built-in stitches, so it's easy to make many different kinds of clothing. The metal frame makes the machine durable and long lasting. The large LCD screen shows what you are sewing, including stitch length and width.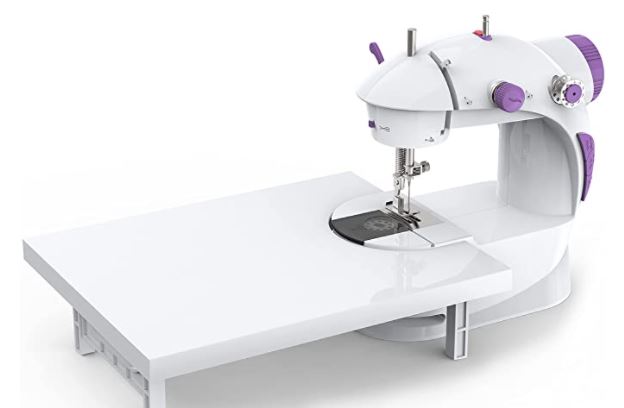 12. Best Beginner Embroidery Sewing Machine
And last but not least in this short list of the Top 12 Best Embroidery Sewing Machines we have chosen this KPCB Mini Sewing Machine which is ideal for beginners or kids (supervised). It is adjustable and quite portable, bringing even a foot pedal with 2-Speeds.
Unlike other mini sewing machines (there are lots of them) this one comes with a large extension table that helps stabilizing the machine for a more comfortable sewing work.