It's never too late to decorate your sweaters, hats, or jackets with a holiday touch. The following Christmas Patches are easy to apply thanks to their iron-on backing. Find here different designs from the more classic Xmas appliques as the snowflake and the Christmas tree to the funny ones as the Santa Claus on the beach with his summer outfit.
10 Best Christmas Appliques
Moms, have you ever wanted to decorate your Christmas clothes (sweater, pajamas) with Xmas ornaments? Well, now you can! These iron-on Christmas patches are a fun and easy way to add some personality to your tree. Just choose your favorite patch, iron it on, and ta-da! You've got an adorable ornament. So get creative and have fun with it!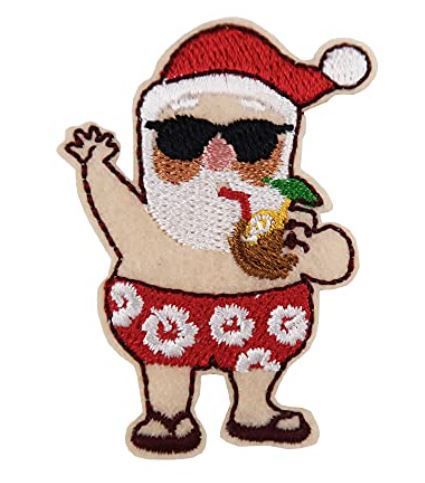 Hawaiian Santa Embroidered Iron On Patch
This hilarious iron-on patch is perfect for anyone who loves Hawaii and Christmas! The fun, festive design will add some personality to any outfit or accessory. Whether you're looking for a small gift for a friend or something to add a little bit of fun to your own wardrobe, this patch is sure to please.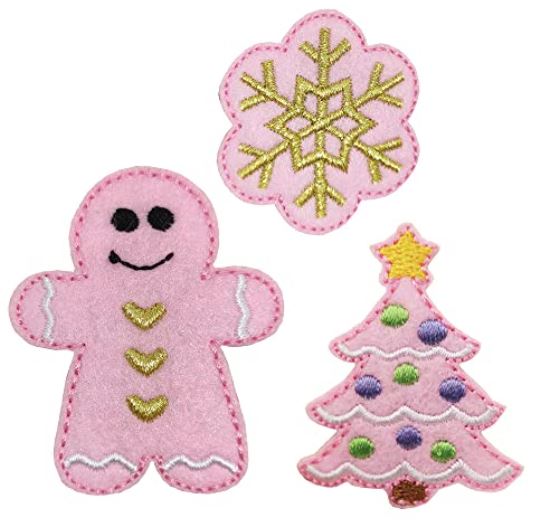 Gingerbread Christmas Tree Snowflake Embroidered Iron On Patches
This is the perfect way to add some extra holiday cheer to your clothes this season! These gingerbread tree snowflake patches are cute, festive, and easy to apply. Just iron them on and you're good to go!.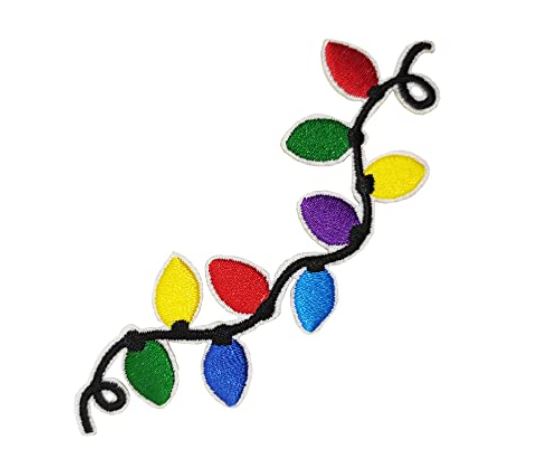 Christmas lamp Embroidered Iron On Patch
Express your Christmas spirit with this fun, embroidered iron-on patch! This festive decoration is great for adorning jackets, backpacks, and more. It makes a small but special gift for family and friends.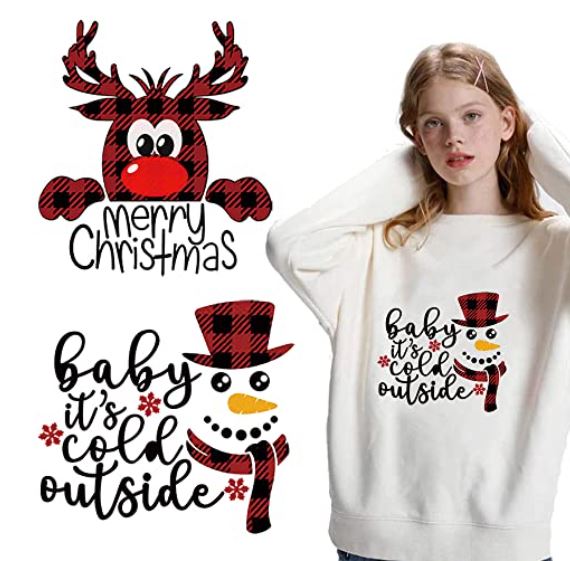 Christmas Iron On transfers Patches
These festive Christmas Iron On transfers patches are perfect for adding a touch of holiday cheer to your clothing and accessories. With 4 sheets of stickers to choose from, you can pick your favorite design and create a look that's uniquely you. The easy-to-use adhesive backing makes applying these patches a breeze, and the pressure and heat requirements are simple to follow. Whether you're looking to add some fun personality to an old shirt or want to give a new bag some extra Christmas style, these transfers will do the trick!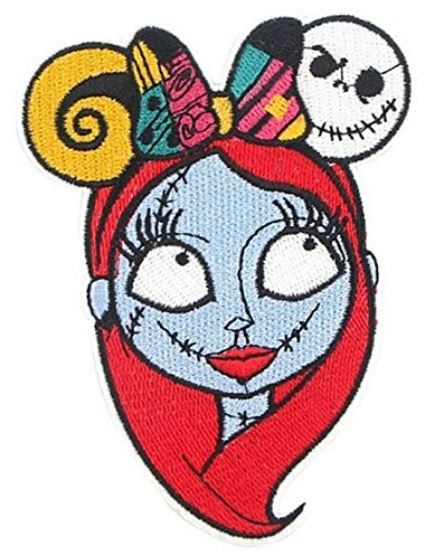 Nightmare Before Christmas Sally Face Embroidered 3.5″ Tall Iron on Patch
This patch is a must-have for any fan of The Nightmare Before Christmas! Sally's sweet face is perfect for adding some personality to your clothes or accessories. It also makes a great gift for any Nightmare Before Christmas lover.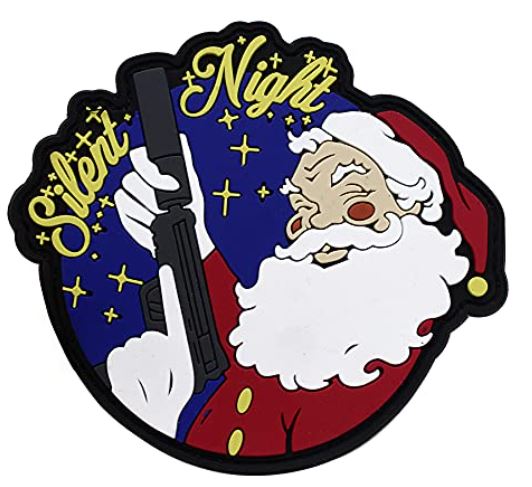 Christmas Silent Night Santa with a Gun Patch Santa Claus Military Patch
You better watch out, you better not cry, you better not pout, I'm telling you why: Santa Claus is packing heat this year! With this hilarious PVC rubber patch, you can add a touch of Christmas fun to your favorite outfit – or just give Saint Nick an extra bit of edge. Whether you're wearing it on your shirt, hat, or bag, this 3D Santa with a gun patch is sure to turn heads. And don't worry – the hook fastener backing ensures that it will stay securely in place. merry christmas!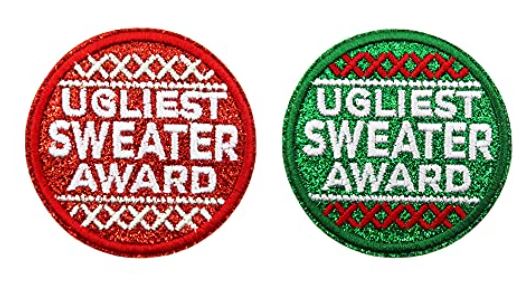 Ugliest Sweater Award Christmas Sparkle Glitter Embroidered Iron On Patches
The ugliest sweater is a traditional family contest that rewards the worst Christmas sweater. These little patches add some fun and humor to your contest during the Christmas season! Thanks to this applique award nobody is going to forget again who won the last contest.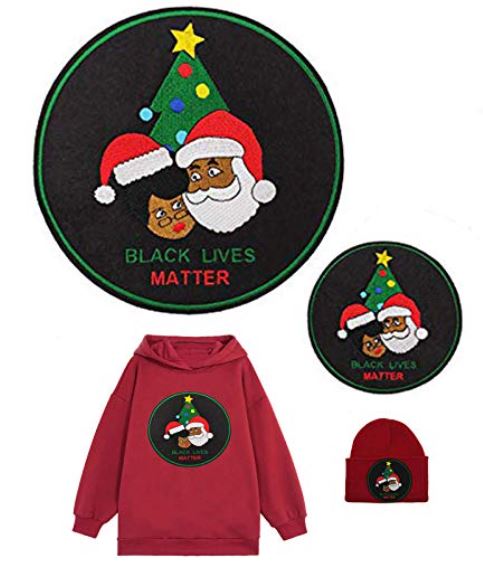 African American Santa Claus Embroidered Iron on Patches Christmas
What could be more festive than a Santa Claus that looks like you? This African American Santa Claus patch is the perfect way to add some personality to your Christmas decorations. Whether you're looking for a unique way to dress up your holiday pajamas, or need an eye-catching embellishment for your cards, this fun iron-on patch is just what you need.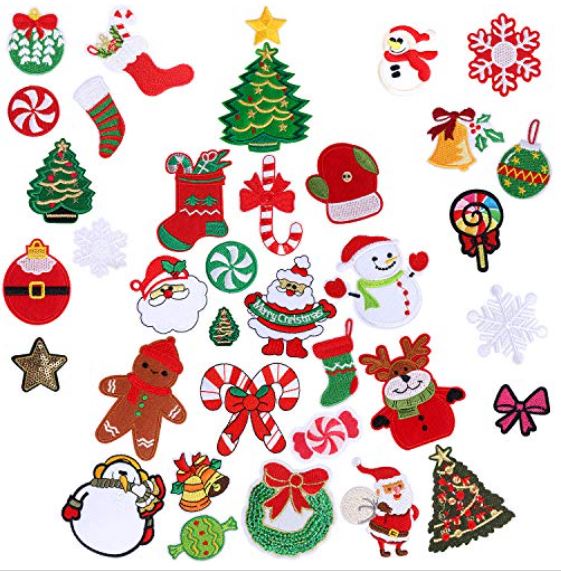 36pcs Christmas Iron on Patches
Deck the halls with these 36 festive Christmas iron-on patches! These charming accents feature traditional icons like Santa and his reindeer, as well as more modern motifs like candy canes and stars. Made of quality embroidered cotton material, they're easy to apply—just heat them up with an iron and they'll stick right onto your clothes or accessories. Add a touch of holiday magic to any outfit with these delightful Christmas patches!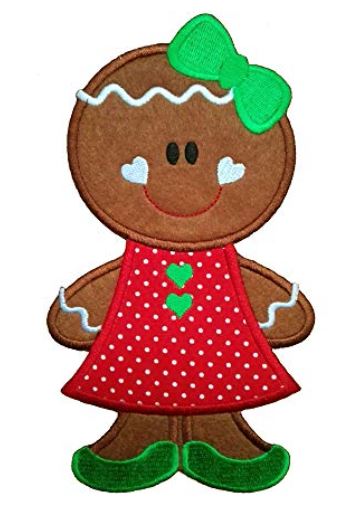 Gingerbread Girl Embroidered Iron on Patch
Step up your style game with this Gingerbread Girl Embroidered Iron on Patch! This super-cute patch is the perfect way to add a little personality to any outfit. It's easy to apply – just iron it on or sew it on to any garment you like. So cute and SO festive!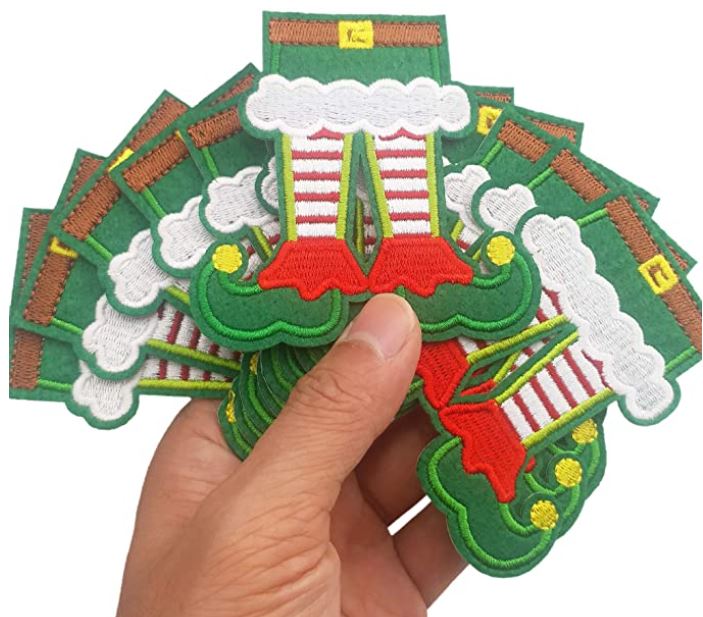 Elf Legs Embroidered Patches
These playful patches are a great way to show off your unique style and make a statement. They're easy to apply- just iron them on directly to any piece of cloth. And because they're made from high quality materials, they'll last long and look great. So go ahead and add a little bit of magic to your wardrobe with Elf Legs embroidered patches!