Are you a Baseball fan? Baseball trading pins are a must have for any Baseball fan! Whether you're looking to support your team, trade with other Baseball fans, or just want to show off your favorite Baseball player's face on the back of your car window, these pins should be high on the list. In this blog post we'll go over 10 best Baseball Trading Pins in stock and how to customize yours so they fit perfectly into your lifestyle.
Baseball Pin Trading
Baseball pins are a popular way for Baseball fans to support their favorite team and players. Baseball trading pins can be purchased at any store that sells Baseball gear, such as the Stadium or online retailers like Amazon. You'll find almost every player has an official Baseball pin (except Mike Trout), but we highly recommend looking out for unofficial pins too because they're just as fun to wear! Baseball trading pins are great because you can trade them with other Baseball fans, so it's like collecting Baseball cards but much more convenient.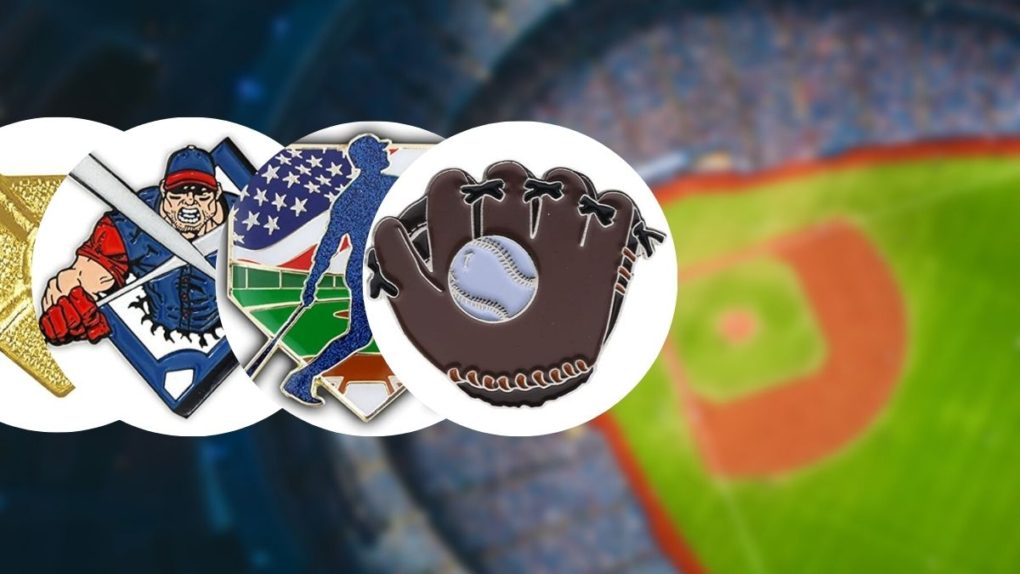 10 Best Baseball Trading Pins In Stock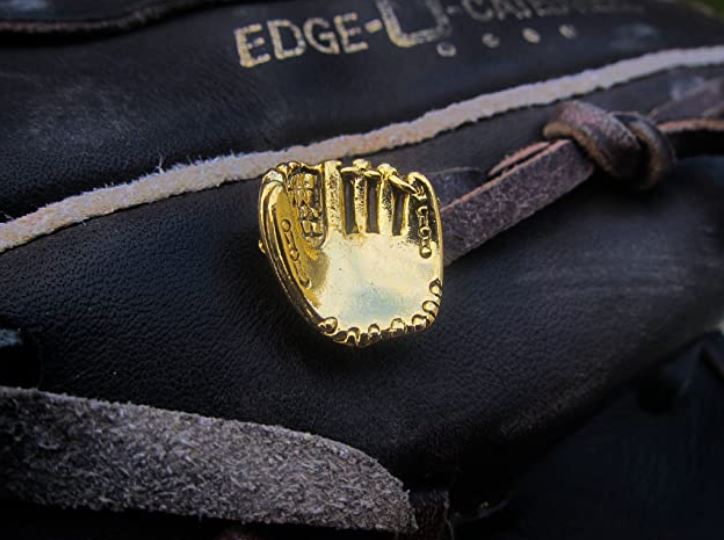 1. Baseball Glove Gold Lapel Pin Baseball
Trading pins are a great way to show your love for Baseball, but what if you want something more symbolic? The Baseball Glove Gold Lapel Pin is one of the best Baseball Trading Pins because it captures the essence of Baseball in a simple design. This pin shows that playing Baseball isn't just about catching and throwing balls. It's also about teamwork, dedication and love. Baseball trading pins can be customized so they fit your lifestyle perfectly!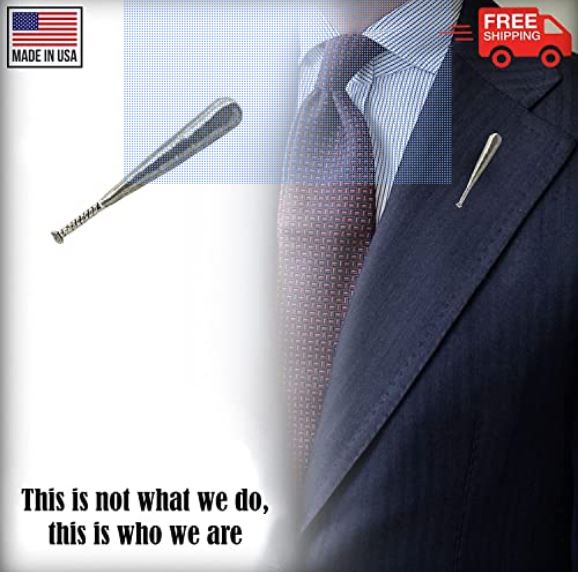 2. Baseball Bat Pin – Silver
These Baseball Bat Pins are made by hand, and come in four different colors: Pewter, Copper Plated, Gold plated, and Painted.
This is a beautiful lapel pin. It is made with high quality metal and it has been put together to avoid spinning. The manufacturers finish and polish the pins after they are made so that they look nice and shiny.
This pin looks great anywhere you wear it, like on hats, jackets, on your lapels and even on your backpack.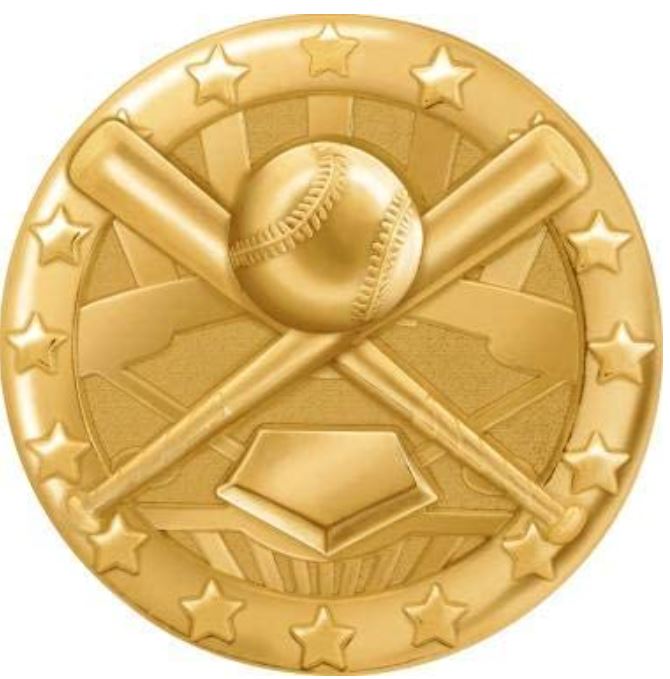 3. Crown Awards Baseball Pins Gold
The 1″ round, detailed 3D design Baseball Jacket Pins are a great way to add some personality to your jacket.
Each Gold Lapel Pin Comes With A Classic Pin Butterfly Clasp Backing.
The Blaze Pins Are a fantastic method to congratulate the whole team.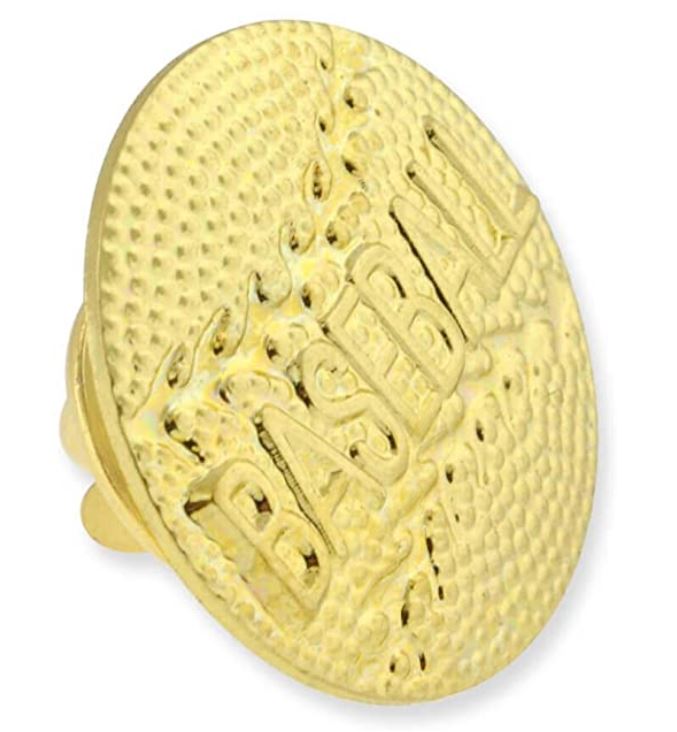 4. Gold Plated Baseball Chenille Sports Lapel Pin
Available as a single item or bulk packed.
Our baseball pin is chenille gold plated and includes an extra-long 10mm post with a clutch back. What a great way to show off your enthusiasm for being an original! This is a must-have if you're going to wear your Letterman jacket.
Every item includes a clutch back and is individually packed in a poly bag.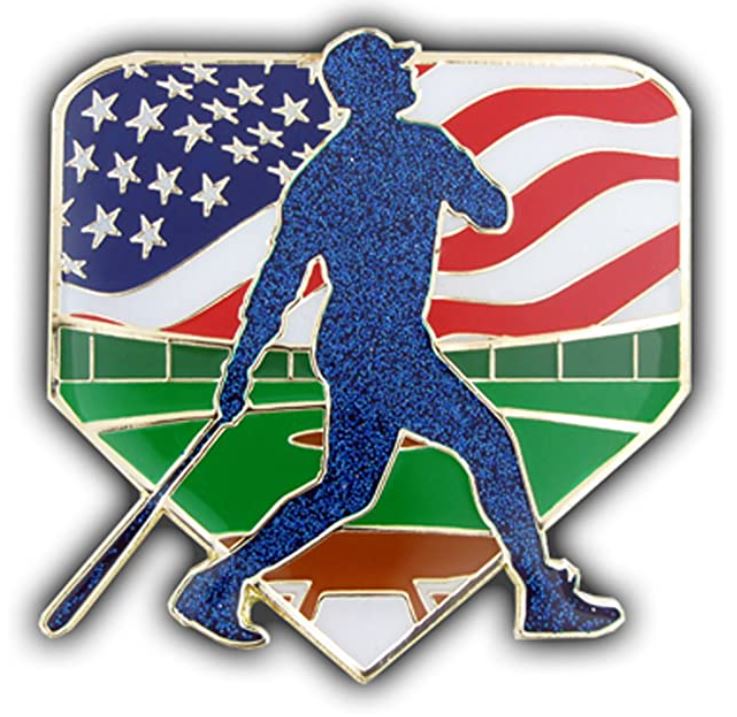 5. Large Baseball Patriotic Trading Enamel Lapel Pin
The All-American baseball player is shown in a profile, with the United States Flag flying behind him. Excellent detail and design. Gold plated and a smooth epoxy coated. It's a symbol of patriotism for baseball fans in the United States! Ideal for every occasion. Each pin is individually polybagged and includes a standard clutch back.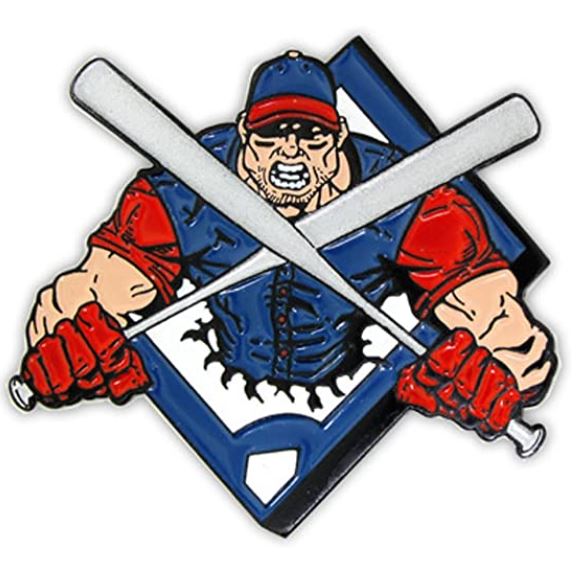 6. Baseball Crossed Bats Sports Trading Enamel Lapel Pin
Available in packs of one or many. 5 enamel color fills and black die plating are used on the die struck pins. Every pin is individually packed in a poly bag.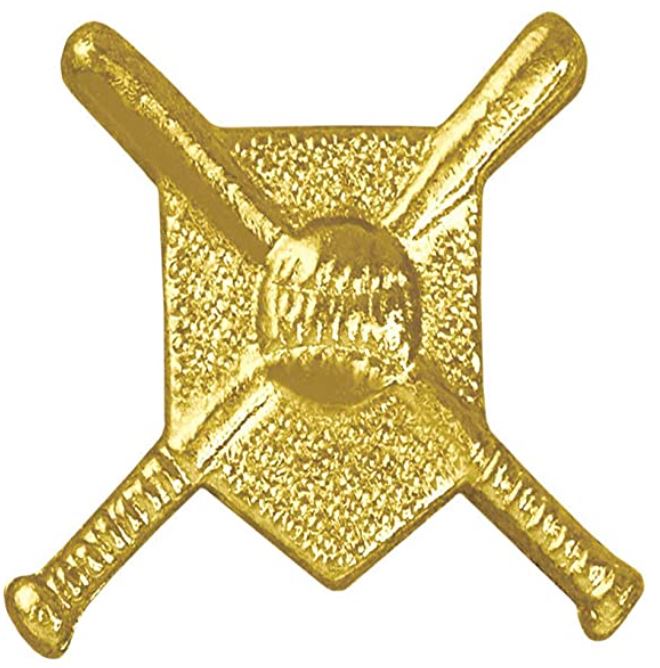 7. Baseball Crossed Bats Chenille Lapel Pin with Clutch Back
Do you need something to reward your baseball team as fast and furious as possible? This iconic Baseball Crossed Bats symbol will do the deal.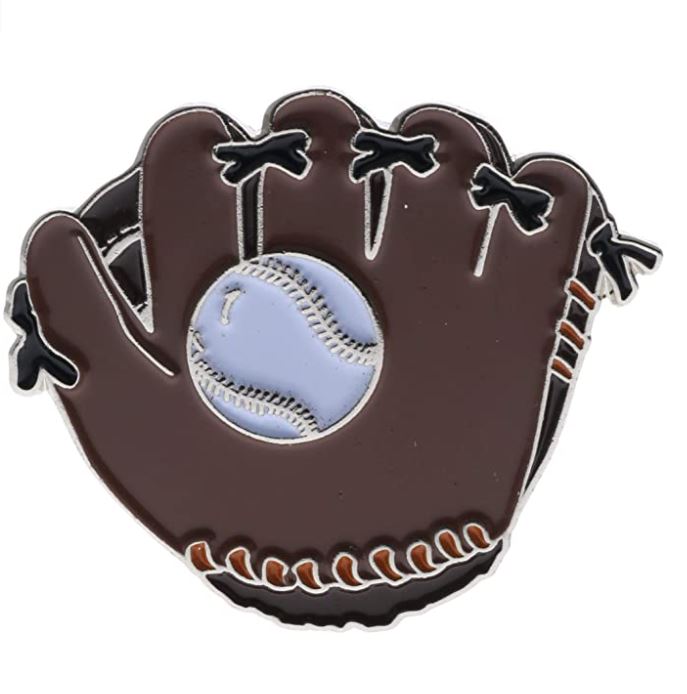 8. Baseball Glove Hat or Lapel Pin
Precision detail and solid craftsmanship distinguish this product. Clasp that won't come off during play. This is a fantastic addition to your collection! Enamel and gold plating are used to make the surface of this pendant.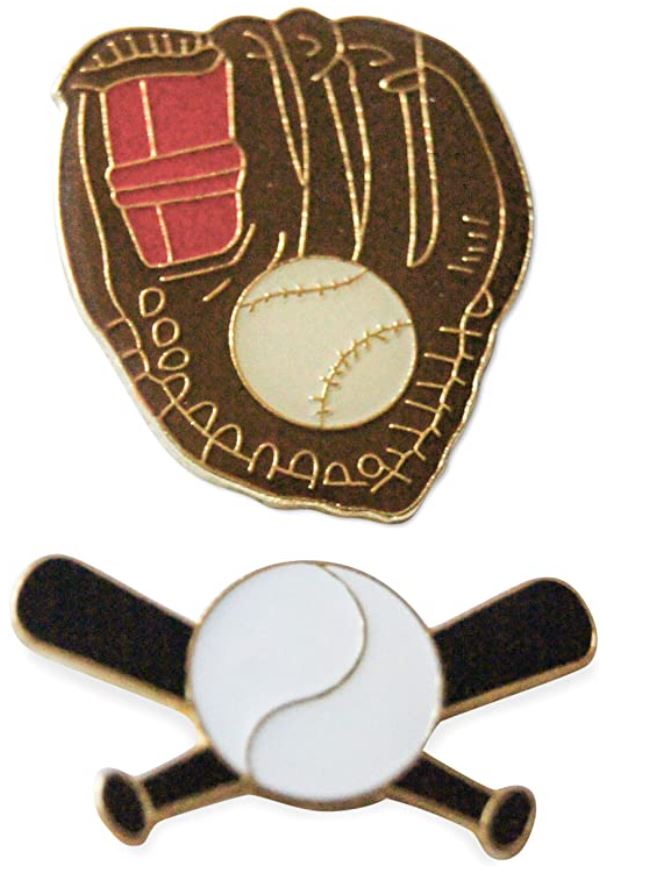 9. Baseball, Bat, & Leather Glove Lapel Pins
Each pin has a clutch backing that keeps it in place. You'll get a pair of 2-Piece Baseball and Glove Pride pins. Wear them alone or together as a vest or sash decoration. Share your pride in the game with family and friends. You will be happy with these pins. They are made from materials that are high quality and they have been made using a special process.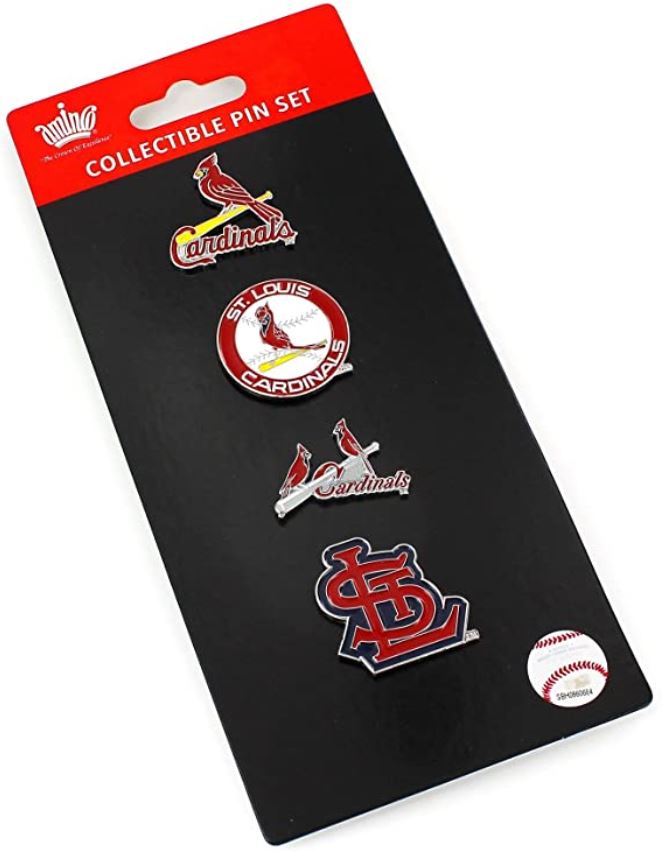 10. St. Louis Cardinals Logo Evolution Pin Set
The St. Louis Cardinals is a Baseball team in the National League Central Division. They have won 11 World Series Titles, most recently in 2011 and also 18 NL Pennants, which is second only to the Giants who have 27 as of 2015. The Cardinals are one of MLBs longest-running and oldest teams having been established as a franchise back in 1882 when they were referred to as the Brown Stockings.
The pin set includes a evolution of the Cardinals Logo including 4 different pins. This is an ideal gift for any baseball fan! They'll be proud to wear their favorite team logo everywhere they go! Each item comes in its own individual polybag so you can take your pick or buy
How to customize your Baseball Pins with Sienna Pacific
Custom Baseball pins are a great choice if you have your own design for us to make from scratch. Just fill out this form and we'll get started! Our team will create an original Baseball lapel pin that is perfect for you and your needs.
We offer a variety of Sport Pins options, styles, finishes, etc.
Types of Lapel Pins