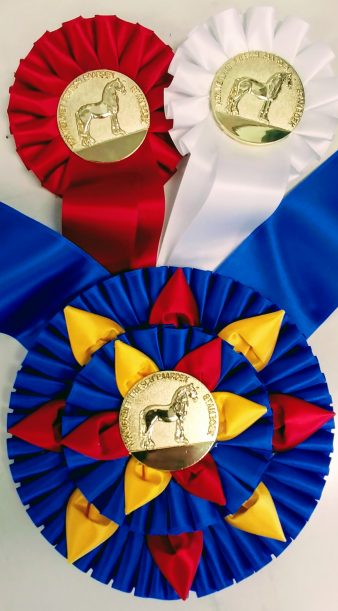 Your Name: Keith Johnson
Your Company Name: Royal Ribbon Coins and Awards
Mission: We manufacture award Rosette Ribbons for events all around the world.
What inspired you? Our customer, Friesian Horse Association of North America (FHANA), requested that we try to replicate a special award Rosette Ribbon and Rosette Neck Sash that is given to the Friesian Horses when they are inspected each year in the Netherlands.
This special Rosette Ribbon and Rosette Neck Sash had a unique gold coin type medallion in the center of each rosette.
We worked with Linx Corporation to design a coin type medallion that was very similar to the one used on the awards that were presented in the Netherlands.
---

The medallions are applied to the center of each Rosette and these Rosette Ribbons and Rosette Neck Sashes are presented to Friesian Horses in North American as they are inspected by the Dutch Inspectors at the local inspection sites (called Keurings).
This process is done yearly to help promote top quality Friesians and to have the breed continue to meet the standards and requirements for the Breed. FHANA conducts these Keurings annually, here in North America.
The Dutch Friesian Horse Inspectors are flown over and visit specific locations across North America to judge the local Friesian Horses.
Our Rosette Ribbons with the special gold medallions are shipped to each location so the Dutch Inspectors can present these special awards to the top Friesian Horses at each Keuring.
What are your goals?
We strive to provide the highest quality Rosette Ribbons, at very competitive prices, for our customers special events.
How long have you been in business?
We have been in business since 2004.
Do you have any new projects upcoming for the future?
We always have special requests that need special medallions and Linx has always been able to provide us with quality pieces to compliment our award ribbons.
Overall, how was your experience working with us?
Linx always provides great customer service and timely delivery of our special request, custom items.
---
If you are interested in getting some amazing Award Ribbons, you can contact them at
Royal Ribbons and Awards
889 Colloredo Blvd.
Shelbyville, TN 37160
(931) 685-0110
Or if you liked their medallions, visit our Corporate Coins Page.