Our Client from MollyBears.com was looking for custom tags for stuffed animals.
They thought the wanted 1.5″x0.5″ satin printed labels, but after consulting with our sales reps, it was obvious that the best option for them was a woven damask label.
Why? Not only because of budgetary reasons, but also because woven labels are more resistant and they will definitely give the final product a professional look, instead of the amateurish one that satin printed labels tend to give to the products they are attached to.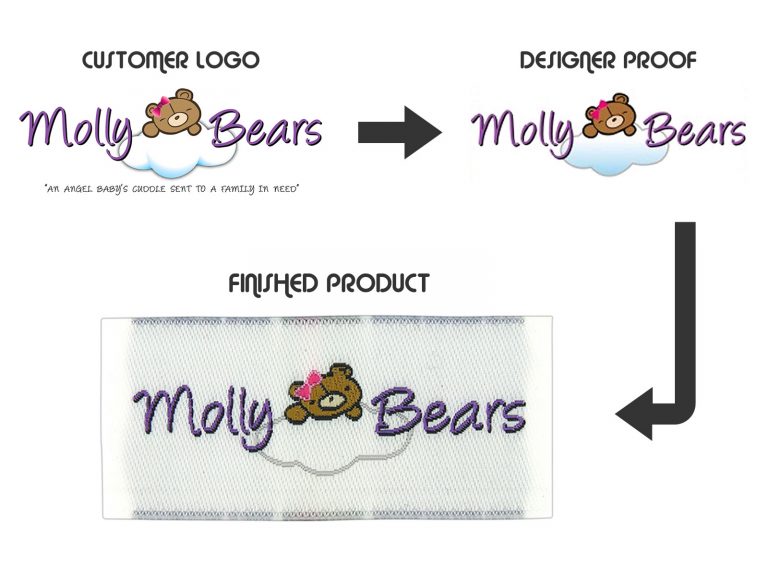 From Their Website:
MollyBears.com is a non-profit organization that creates weighted teddy bears for families coping with infant loss. MollyBears.com is also an online community of support for families that have suffered a death of an infant.
We create weighted teddy bears for families coping with any form of infant loss
The Request
Our Customer told us: These tags are sewn onto the bottoms of the bears, we are a non profit that provides bears for infant loss.
The Design
As you can see, the original design has their slogan at the bottom of the design, and the final product doesn't. The decision of removing the text was made by the customer at the suggestion of our Sales Rep., due to the very small size the text would have in a 1.5″ wide label, it would be virtually impossible to read or even manufacture the woven labels, as the definition limits have to adjust to the thickness of the polyester threads.
The Final Product
Both our customer and us are very satisfied with the final result, the decision of removing the bottom text, and using the technique called double shuttle on the white background gave the label a clean, and pure white look that enhanced the look of the woven label.
Need Custom Tags For Stuffed Animals?
If you think a woven label is the way to go for your product, the following pages will take you in the right direction: woven labels design help page and the woven damask label page for pricing and our product gallery.
We are here to help with questions about our products and the order process, but if you feel more comfortable, you can give us a call at (888) 720-2115. We will suggest the many options available to tailor your design to your needs and budget.
Or just click on the button below to fill out an online form, and upload a file and give us as many details as you want.