The Client
InkAddict is a brand of apparel that targets tattoo artists and tattoo lovers and enthusiasts. When they began with their line of clothing and accessories, it was pretty straight forward. But the popularity of the brand, their story and their community involvement and support and promotion of music, causes and artists, has put them on the upward rise in popularity and now they have fully encompassed and created a lifestyle brand. Finding such success in this ever growing and popular industry is tough; but InkAddict has risen to the top of the marketplace.
A brand of apparel with a specific target audience: Those who create tattoo art and those who appreciate tattoo art.
InkAddict is clearly aware of the importance of branding and creating a company identity. They have branded their line of clothing and accessories with a very edgy and straightforward logo that allows their artists and artwork to shine. When you see this logo in the marketplace, you recognize today that you are seeing some of the very best in the industries work.
They have conquered also the world of podcast interviews: Here is a place where you can meet up close and personal the artists that create these significant tattoos', along with follow the causes they support by meeting the individuals that have inspired them to act.
Visit them here: Inkaddict
The Solution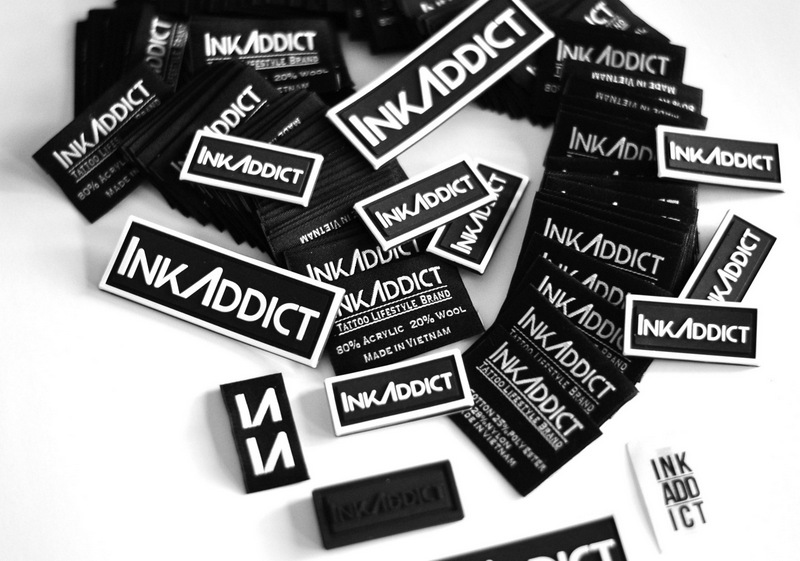 This is a great project for us as we have the chance to create many of the products from our portfolio. From our custom keychains to PVC, Woven Labels to Embroidered Patches, they have them all in their arsenal for branding. Thank you InkAddict for trusting us with your branding needs. We will continue to follow your successful rise in the market and are thrilled to be a part of it with you.
Aligned with this strategy, they also asked us to create woven labels and embroidered patches with their logo to attach to their products. When we told them that we also manufacture lapel pins and key chains they were delighted and order them as well.
This is a very well rounded branding campaign for InkAddict, and one that has proven to be very successful.