The Client
Cathy has been sewing most of her life and made the decision that it was time to take her talents to the next level and design clothing for our little ones. Sewing fills a need for Cathy and using sewing as her creative outlet was a natural thing for her to do.
Cathy graduated from the University of Minnesota with a degree in Home Economics with the focus of Textiles and Clothing. She tossed around the idea of making children's clothing after the passing of her husband, whom had always encouraged her to follow her heart. The label and logo Cathy created has a very special meaning to her as the word 'Kimimila' is the Lakotah Sioux word for Butterfly.
Having grown up in Southern Minnesota, the Lakotah territory, she always felt a connection to the Native American culture there. Couple that with her unique experiences surrounding butterflies after she lost her husband, Peter; a perfect fit was founded, and so now we have Kimimila New York.
Visit them at Kimimila New York
The Solution
This woven label is as precious as the clothes sewn by Cathy. This is considered an end-fold label, as the sides turn in for a nice edge. With our quantities kept with low minimums and are ability to add up to 8 thread colors in our woven labels, this is a great example of the detail you can have with your custom woven label. It took us a few tries to get this to be exactly what Cathy had in mind for her line of clothing. We enjoy helping the customer through adjustments, text, colors and patterns to bringing their vision to life.
Please contact us at any time if you need help with a project similar to this one. This is what we enjoy doing; helping you bring your vision to final production to capture the image you want for your company.
Other Custom Labels Made for NYC Designers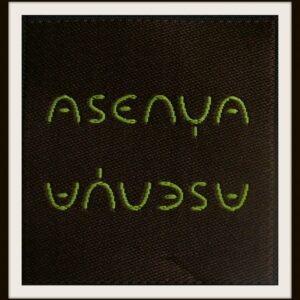 The Client Asenya is a design studio located in New York City, and their focus is "everything design". The Metropolitan Opera, Harlem Needle Arts and…